The Mediterranean Centre for Molecular Medicine (C3M) was created on January 1st, 2008, under the responsibility of INSERM (National Institute of Health and Medical research) and UNS (University of Nice Sophia Antipolis). For its creation, several research groups from the Faculty of Medicine joined together. These groups aim to develop strong interactions amongst themselves and with clinical departments. The localization of C3M within the Archet Hospital, one of the largest hospitals in Nice, allows the possibility of translational research, from bench to bedside and vice versa.

This multidisciplinary centre currently includes 10 joint INSERM/university teams, representing 130 people, that focus on three major research topics:
• Proliferation, Cellular Death, Differentiation and Cancer
• Biology of Host-microorganism interactions
• Metabolic diseases
The diversity of research interests at C3M create an enriching work environment, facilitating interdisciplinary collaborations which benefit from complementary approaches and the expertise knowledge of each team.
One of the current goals of the C3M is to expand via the integration of new research teams of the highest scientific quality, and whose research complements that of the existing teams.
Exquisite research technologies:
The Centre provides shared facilities for the individual teams including, an imaging facility with the most recent types of equipment (confocal microscopes, TIRF, laser microdissector), a genomic facility and an animal facility. In addition, the centre provides technical assistance for all facilities.
A Research Training Centre:
C3M develops various research training activities for Masters and PhD students. All teams are affiliated with the "Ecole Doctorale des Sciences de la Vie et de la Santé" (Graduate School of Life and Health Sciences). Scientific seminars are organized regularly.
Direction of the Centre:
Dr Patrick Auberger, is the Director (Link to CV) and Dr Jean-François Tanti, is the Scientific Deputy Director (Link to CV).
The board of directors, which includes all the individual research team PIs, meets monthly.
The Centre also has an institutional committee that consists of the members of the board of directors as well as representatives from all other scientific levels: research fellows, postdocs, research assistants, PhD students, and undergraduate students. This committee meets once every three months to discuss and give advice on all aspects of C3M organization and scientific strategy.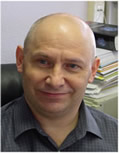 Director :
Dr. Patrick Auberger

Scientific Deputy Director : Dr. Jean-François Tanti