---
Peace and survival of life on Earth as we know it are threatened by human activities that lack a commitment to humanitarian values. Destruction of nature and natural resources results from ignorance, greed, and a lack of respect for the Earth's living things... . It is not difficult to forgive destruction in the past, which resulted from ignorance. Today, however, we have access to more information, and it is essential that we re-examine ethically what we have inherited, what we are responsible for, and what we will pass on to coming generations. Clearly this is a pivotal generation... . Our marvels of science and technology are matched if not outweighed by many current tragedies, including human starvation in some parts of the world, and extinction of other life forms... . We have the capability and responsibility. We must act before it is too late.
Tenzin Gyatso the fourteenth Dalai Lama
---
Web sites related to the environment


http://www.greenpeace.org/international_en/


http://www.foe.org/
http://www.foe.co.uk/

http://www.wwf.org.uk/

http://www.unep.org/

http://www.nerc.ac.uk/
http://www.gnet.org/

http://www.globe.gov/
http://www.greenpeace.org/

http://www.newint.com/

http://www.iied.org/

http://news.bbc.co.uk/2/hi/science/nature/

http://www.care2.com/

http://dir.yahoo.com/Society_and_Culture/Environment_and_Nature/
Energy21 http://www.energy21.org/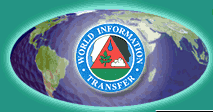 http://www.worldinfo.org/

http://sedac.ciesin.org/


http://www.johannesburgsummit.org/

http://www.wbcsd.org/


http://www.ncar.ucar.edu/

http://www.reliefweb.int

http://www.wrm.org.uy/
Links to earth science news sites
http://explorezone.com/
Excellent and comprehensive earth science news.
http://college.hmco.com/geology/resources/geologylink/news.html
Discoveries and news in earth sciences.
http://www.sciencedaily.com/news/earth_climate.htm
Earth and climate section from Science Daily.
http://www.phschool.com/science/planetdiary/index.html
Current and recent Earth phenomena.
---
From http://www.ulb.ac.be/ceese/meta/cds.html
Best environmental directories
description: Selection of best internet environmental directories (list of lists), for more than 650 environmental subjects.
keywords: environment, sustainable development, resources, internet, world wide web, list, lists, directory, directories, links, index, indice, subject
Last update: 14 Mar 2003.
Criteria for inclusion here: number of quality records relevant to the subject. We try to keep only the best starting point for each subject.
'Selected' = a list that makes a selection of best sources; 'all' = comprehensive list with some tools for preselection (short description, search tool, ...); 'metadatabase' is a complete searchable (meta)database. The lists are in English if no other language is mentionned.
You can link directly one of the best lists on your matter, or do it through our annotated list of directories Other hit parades for environmentalists are also available, and if you do not find anything, try selected internet search engines. Auxilliary lists (white pages, chemistry, etc.) can also be usefull for environmentalists.
NEW:
Direct link to lists:
[A| B| C| D| E| F| G| H| I| J| K| L| M| N| O| P| Q| R| S| T| U| V| W| X| Y| Z|]
A
Add or replace the best for your subject: mail to bkest@ulb.ac.be
Other starting points hit parades:
................................................................................Go to top
AWARDS: SciCentral, Argus Clearinghouse and 600 others approved.. Here is a listing of 270 citations at 23/3/98
Statistics with graphics:
For any comments or additions, please do not hesitate to contact me:
Bruno Kestemont (bkest@ulb.ac.be) of CESSE, under initial financing of the Belgian Federal Office for Scientific, Technical and Cultural Affairs
Special thanks to Josef Barth, Michelle Batten, Linda Black, Robert Bourdeau, Christian Brodhag, Jos Boelens, Sam Droege, Sarah Deutsch, Carol A. Fedora, Seth Finkel, JEZwick@aol.com, Asger Garnak, Walter Hecq, Jacques Jedwab, Marc Leemans, Dirk Le Roy, Marc Levy, J.P. Myers, Shay Mitchell, Nestor Navarro, Adora Pozolinski, Steve Habib Rose, Rinaldo Sikking, Dave Story, Kit Strange, Dave Story, Sarah Reeves, Glenn Ronsse, Fred Stoss, Joe Strahl, Michel Vasic, Mathias Verlie, Joana Villas-Boas, Catherine Vits, Erik Vloeberghs, Edwin Zakai, Konrad Zirm, the maintainers of the directories linked from here, for their usefull job, and all the others who encouraged me or made comments or suggestions for this list.
---